Future of sustainable food systems in the Mediterranean 🌍
#SFSMED DIALOGUES (PART 3)
9 December 2021
Way forward for regional collaboration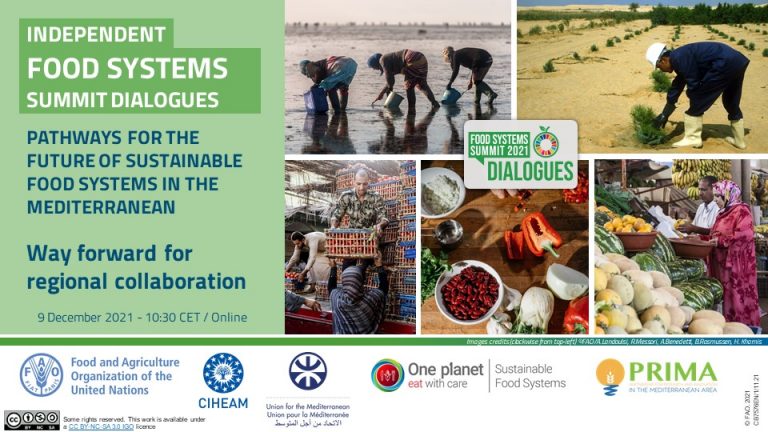 The third independent Food Systems Summit Dialogue for the Mediterranean Region (SFS MED dialogue) organised by the International Centre for Advanced Mediterranean Agronomic Studies (CIHEAM), the Food and Agriculture Organization of the United Nations (FAO), the Secretariat of the Union for the Mediterranean (UfM), the One Planet Network's Sustainable Food Systems Programme (OPN-SFSP) and the Partnership for Research and Innovation in the Mediterranean Area (PRIMA) Foundation, took place on 9 December 2021. It was the third one after the independent Dialogues held in April and June 2021.
The event featured a roundtable moderated by Mr David Nabarro, Food Systems Summit Dialogues Senior Advisor, with the participation of National Convenors from Albania, Egypt, Italy, Turkey as well as stakeholders' representatives from the Arab Women Organization, the European Bank for Reconstruction and Development (EBRD), EIT Food, and BETA Technological Center. The roundtable aimed at taking stock of regional and national efforts in support of the follow-up to the UN-Food System Summit and discussing the way forward and identifying opportunities for collaboration at national and regional levels.
The three SFS-MED Dialogues were jointly aimed at moving towards a common understanding of the complex environment of Sustainable Food Systems in the Mediterranean region and their outcomes will support inclusive future discussions and commitments towards their transformation.
3rd World Conference on the Mediterranean Diet (28-30 September 2022, Bari)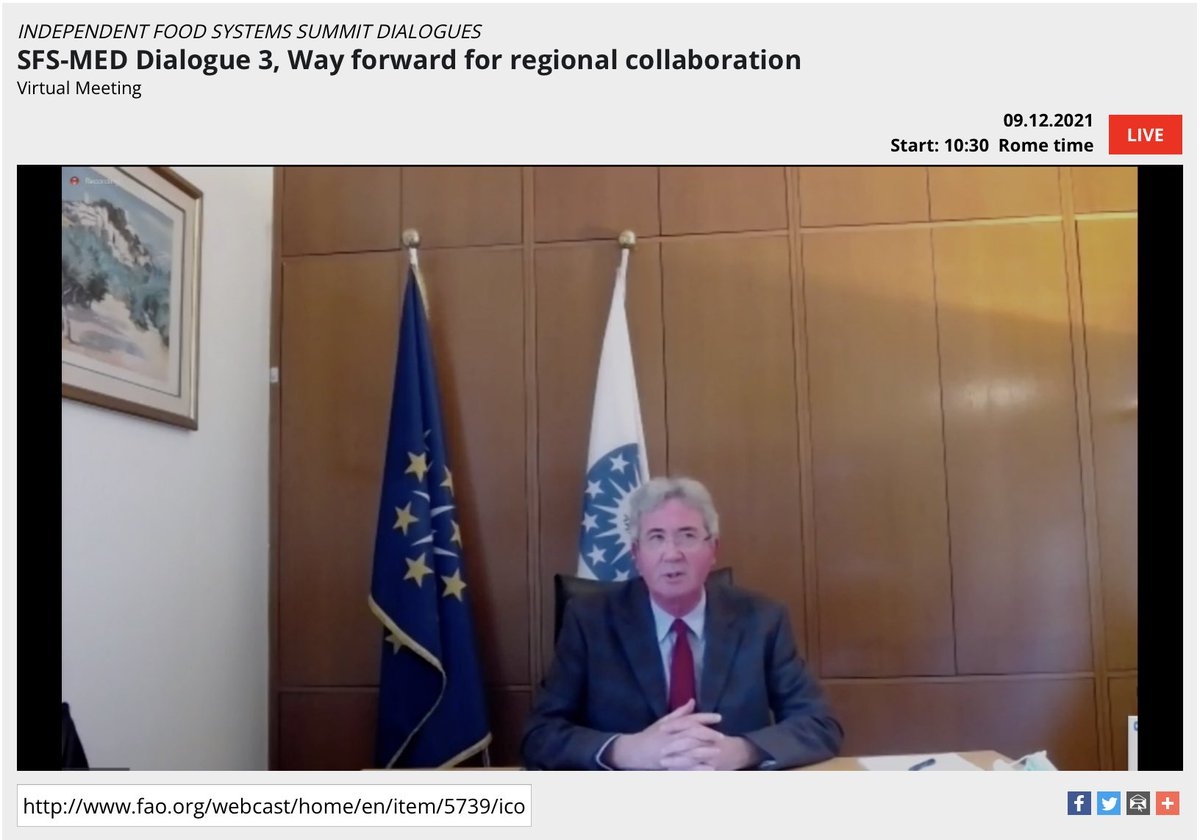 In this context, Plácido Plaza, Secretary-General of the CIHEAM announced that for its 60th Anniversary, the CIHEAM is planning to organise in Bari, the 28-30 September 2022, the third World Conference on the Mediterranean Diet "A Change of Route: Towards More Sustainable and Resilient Food Systems in Mediterranean Countries". Indeed, the Mediterranean Diet is a strategic resource for accelerating the Agenda 2030 in the region. The Conference will address priority issues from the three SFS-MED Dialogues and boost the operationalization of the SFS-MED Platform.
Hosted at CIHEAM Bari, thanks to its Coordination Desk, this platform intends to catalyze a more effective transition to climate-resilient Food Systems, through more "green", "blue" and " circular" solutions in Mediterranean countries and by strengthening multi-stakeholder partnerships between actors across all food systems in northern, southern and eastern Mediterranean countries, by adopting a collaborative One-Health development approach.
This approach includes increased efforts through research, innovation, development of employable skills and knowledge to address malnutrition in all its forms while reducing environmental threats, increasing resilience to climate change and ensuring economic and social sustainability.
The outcomes of the two first dialogues and their key messages are summarised in this executive brief English, French, Arabic
Event agenda | Streaming here