Governance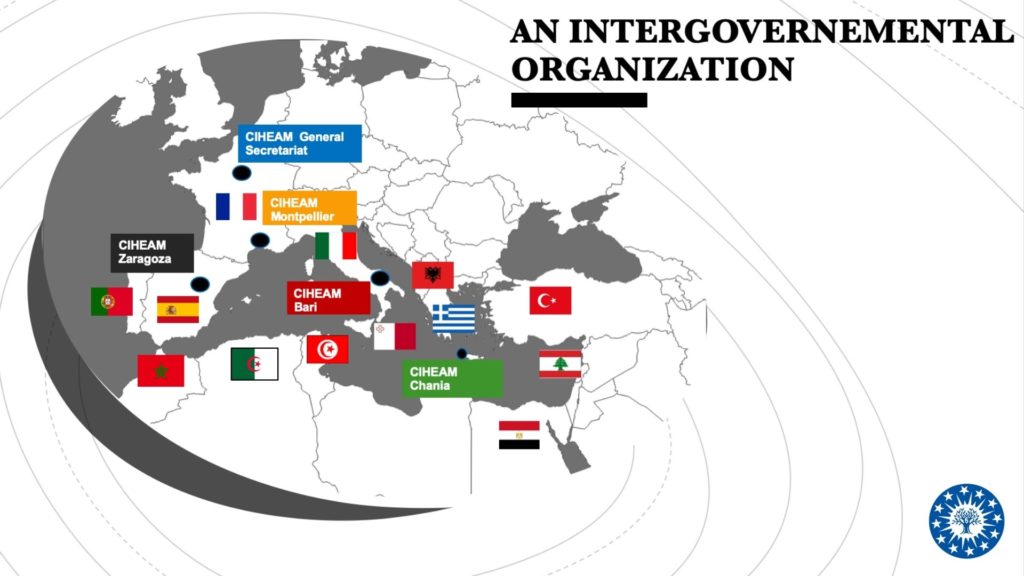 Established in 1962, the International Centre for Advanced Mediterranean Agronomic Studies (CIHEAM) is a Mediterranean intergovernmental organisation composed of 13 Member States (Albania, Algeria, Egypt, France, Greece, Italy, Lebanon, Malta, Morocco, Portugal, Spain, Tunisia and Turkey). It operates through its 4 Institutes based in Bari (Italy), Chania (Greece), Montpellier (France) and Zaragoza (Spain) and the Headquarters based in Paris.
As a key player in multilateral cooperation in the fields of sustainable agriculture and fisheries, food systems, coastal and rural development, its missions revolve around four main objectives:
- Protection of the planet by combating all forms of waste (Natural resources, Food, Knowledge and Know-how...)
- Food and nutrition security by boosting sustainable agriculture and food systems
- Inclusive development by investing in new generations and fragile territories
- Prevention of crises by working for the resilience of communities and territories
The CIHEAM strives to achieve these objectives through education and capacity building, networked research, cooperation and technical assistance and political dialogue. Cooperation is essential for the CIHEAM, which collaborates with more than 50 countries, several regional and intergovernmental organisations, and more than 600 universities and research centres.
---
Our structure
The President of the Governing Board and the Secretary-General of the CIHEAM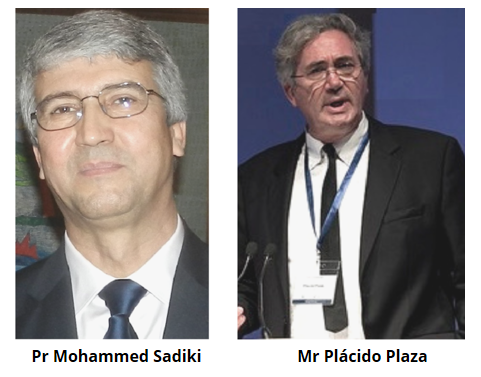 Prof. Mohammed Sadiki, currently Ministry of Agriculture, Maritime Fisheries, Rural Development and Forests of the Kingdom of Morocco, has been elected President of the CIHEAM Governing Board during the 141st Governing Board meeting of the Organisation (December 2018).
On the occasion of the 142nd Governing Board meeting of the CIHEAM held in Paris, Mr Plácido Plaza was elected unanimously as the new Secretary-General. The candidate of the Spanish Authorities entered into office on 1 March 2019, for a first mandate of four years, after completing an interim period.
Read more about these elections here
---
The CIHEAM Governing Board
Consisting of one representative from each of the 13 Member States, the Governing Board is the managing and decision-making body. Representatives of the OECD and the Council of Europe sit ex officio on the Board in an advisory capacity. The President is elected by a 2/3 majority for a period of 4 years. He is assisted by Vice-Presidents elected for the same period through the same voting procedure.
President of the Governing Board

Mr Mohammed SADIKI (Morocco)


Governing Board Vice Presidents

Mr Farid HAROUADI (Vice President, Algeria)
Ms Valérie BADUEL (Vice President, France)
Mr Christos AVGOULAS (Vice President, Greece)
Mr Teodoro MIANO (Vice President, Italy)


Member States Delegates
Mr Enio CIVICI (Albania)
Mr Mohamed SOLIMAN (Egypt)
Mrs Wafaa AL-DIKAH HAMZE (Lebanon)
Mr  Bilal Hajjouji (Morocco)
Mr Nuno FIGUEIRA BOAVIDA CANADA (Portugal)
Mrs María José Hernández Mendoza (Spain)
Mr Mahmoud Elies HAMZA (Tunisia)
Mr Nihat PAKDIL (Turkey)

---
The Advisory Board
It consists of a number of eminent figures appointed for a period of 4 years by the Governing Board. They are "chosen, in particular, from among members of establishments for higher education in agriculture and of agricultural research institutes" (article 5.1 of the 1962 Agreement). It gives its advice on issues submitted by the Governing Board.
CIHEAM Advisory Board members in 2021
President of the Advisory Board
Ms GHAOUTI Lamiae (Hassan II Institute of Agronomy and Veterinary Medicine, Morocco)
Advisory Board Members
Ms SINFORT Carole (Montpellier SupAgro, France)
Mr MALORGIO Giulio (Universita di Bologna, Italy)
Mr ABDALLAH Chadi (CNRS Lebanon)
Mr BEN SALEM Hichem (IRES, Tunisia)
Mr CARMONA BELO Carlos (INIAV, Portugal)
Mr KAPAJ Ilir (Tirana University, Albania)
Overview of the CIHEAM Institutional Organization Chart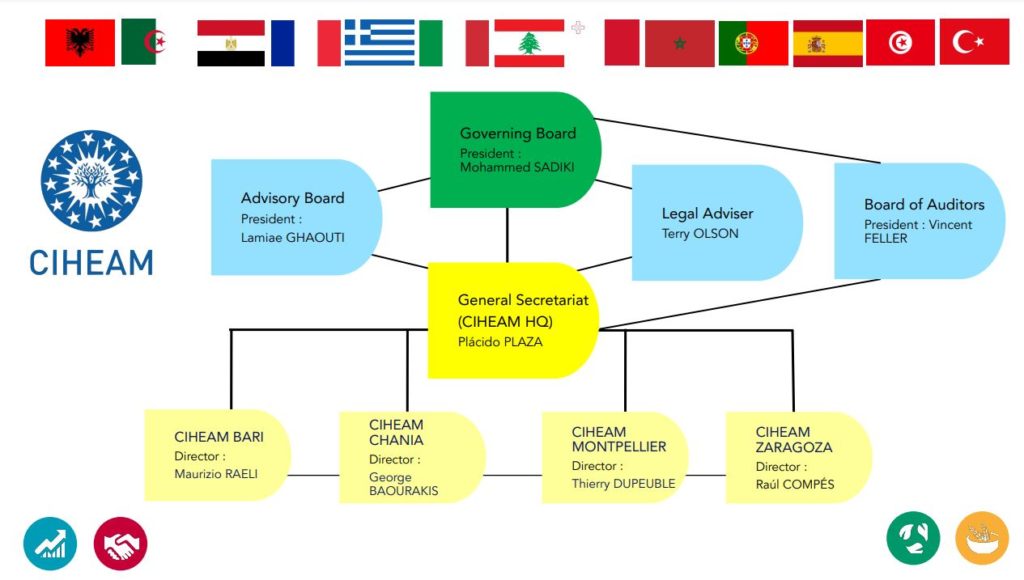 ---
The General Secretariat (Headquarters)
Based in Paris, the Headquarters coordinate, facilitate and implement the actions conducted by the different bodies of the CIHEAM.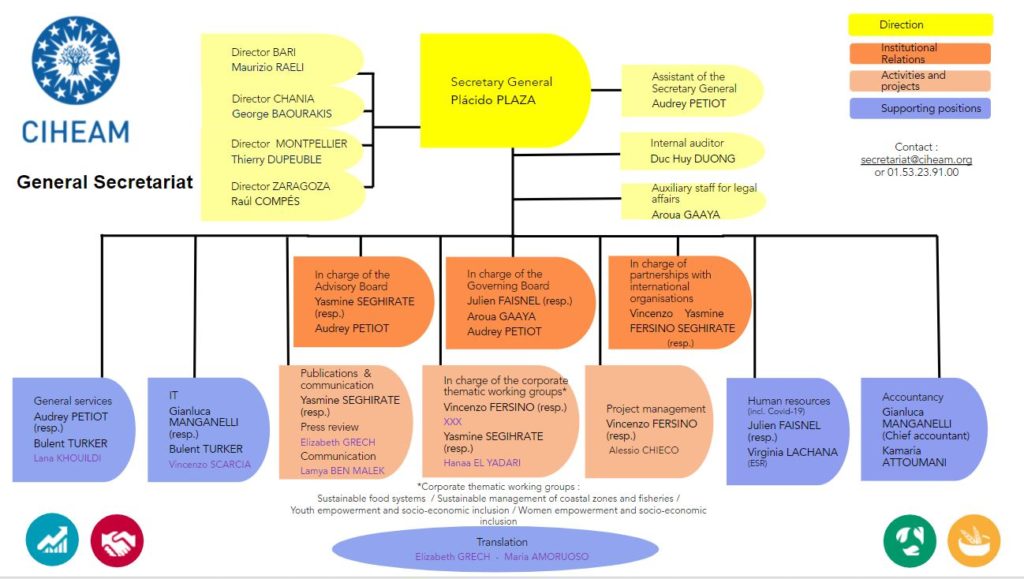 The Mediterranean Agronomic Institutes
The 4 Institutes CIHEAM Bari, CIHEAM Chania, CIHEAM Montpellier, and CIHEAM Zaragoza conduct the CIHEAM's educational, research and cooperation activities
Organization Chart of the CIHEAM Institutes