Governance
Our structure
The President of the Governing Board and the Secretary General of the CIHEAM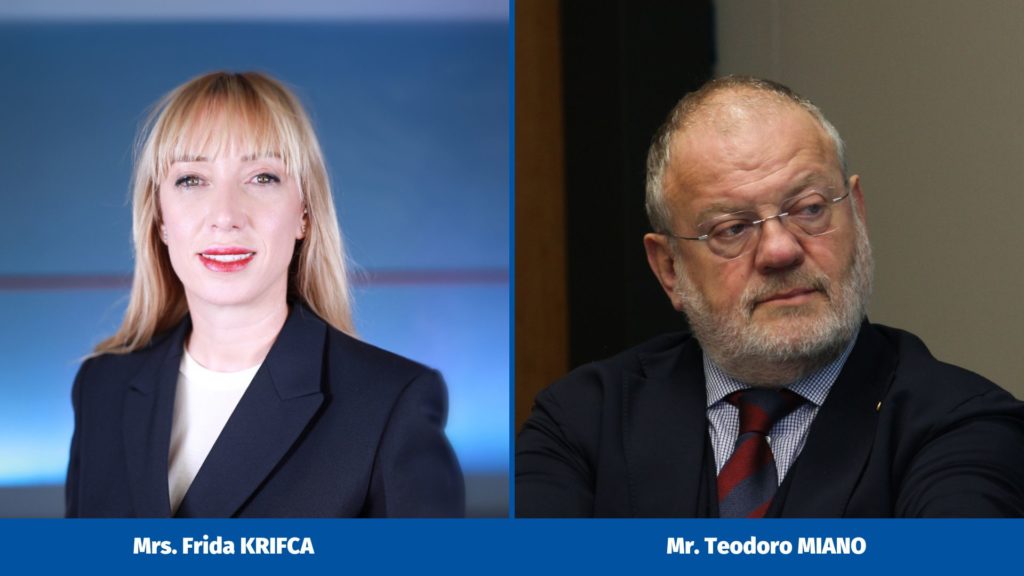 Mrs Frida Krifca, currently Minister of Agriculture and Rural Development of Albania, has been elected President of the CIHEAM Governing Board during the 151st Governing Board meeting of the Organisation.
On the same occasion, Mr Teodoro Miano was elected as the new Secretary-General. The candidate of the Italian Authorities entered into office on 1 March 2023, for the first mandate of four years.
Read more about these elections here
---
The CIHEAM Governing Board
Consisting of one representative from each of the 13 Member States, the Governing Board is the managing and decision-making body. Representatives of the OECD and the Council of Europe sit ex officio on the Board in an advisory capacity. The President is elected by a 2/3 majority for a period of 4 years. He is assisted by Vice-Presidents elected for the same period through the same voting procedure.
President of the Governing Board

Mrs Frida KRIFCA (Albania)


Governing Board Vice Presidents


Mrs Wafaa AL-DIKAH HAMZE (Lebanon)
Mr Miguel Angel RIESGO PABLO (Spain)




Member States Delegates
Mr Enio CIVICI (Substitute, Albania)
Mrs Fatiha BAOUCHE (Algeria)
Mr Adel Abdel Azzim Abu Al-Yazid (Egypt)
Mrs Valérie BADUEL (France)
Mr Christos AVGOULAS (Greece)
Mr Marco GIUNGI (Substitute, Italy)
Mr Sharlo CAMILLERI (Malta)
Mr Bilal HAJJOUJI (Morocco)
Mr Nuno FIGUEIRA BOAVIDA CANADA (Portugal)
Mr Hichem BEN SALEM (Tunisia)
Mr Metin TURKER (Türkiye)

---
The Advisory Board
It consists of a number of eminent figures appointed for a period of 4 years by the Governing Board. They are "chosen, in particular, from among members of establishments for higher education in agriculture and of agricultural research institutes" (article 5.1 of the 1962 Agreement). It gives its advice on issues submitted by the Governing Board.
CIHEAM Advisory Board members
President of the Advisory Board
Mr ABDALLAH Chadi (CNRS Lebanon)
Advisory Board Members
Mrs BENCHIKH LEHOCINE Maysoun (Ministry of Agriculture and Rural Development of Algeria)
Mrs FATEN Khamassi (INAT, Tunisia)
Mr CARMONA BELO Carlos (INIAV, Portugal)
Mr KAPAJ Ilir (Tirana University, Albania)
Mr ROJAS BRIALES Eduardo (Universitat Politècnica de València, Spain)
Mrs SAMMUT Sonya (Ministry of Agriculture, Fisheries, Food, and Animal Rights of Malta)
---
CIHEAM Gender Equality Plan
CIHEAM is committed to making gender equality a priority. The General Secretariat and the 4 Institutes (Bari, Chania, Montpellier and Zaragoza) have all developed plans to make progress in this area.
It is essential that the women and men who constitute the CIHEAM enjoy equal rights and opportunities, and that their aspirations and needs are equally valued and promoted. Our plans aim to ensure this equality by defining the objectives to be achieved and the means to achieve them.
---
The Mediterranean Agronomic Institutes
The 4 Institutes CIHEAM Bari, CIHEAM Chania, CIHEAM Montpellier, and CIHEAM Zaragoza conduct the CIHEAM's educational, research and cooperation activities