OUR CONTRIBUTIONS

OUR CONTRIBUTIONS
With its rich multifaceted expertise and an extensive international network, the CIHEAM contributes to the debate of ideas by producing knowledge and conducting scientific and technical analyses. Our publications and communication tools are aimed at facilitating decision-making processes for political, economic and agricultural stakeholders, but also to provide students, researchers, journalists and other civil society players with the essential keys to understanding the Mediterranean.
In addition to its publications, the CIHEAM relies on other institutional communication tools (websites, social networks, etc.) in order to disseminate information on its activities and share knowledge with the largest number of people.
---
New Medit is the Mediterranean Journal of Economics, Agriculture and Environment published quarterly by the CIHEAM-Bari. New Medit is a renewed version of the former journal, Medit, first published in 1990. Adopting a multi-disciplinary approach, the Journal focuses on issues related to economy and agriculture in Mediterranean countries. New Medit is a tool for information and scientific analysis enabling a deeper comprehension of the economic and social transformations of agriculture and rural societies and of agro-food networks.
The Review is published in Bari in collaboration with Dedalo Edition. Pr Giulio Malorgio (University of Bologna) is the chief editor (contact).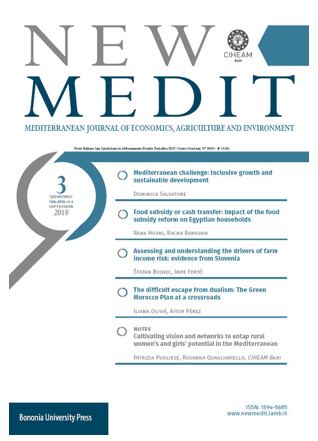 ---
OPTIONS MEDITERRANÉENNES
Options Méditerranéennes draws upon the scientific work carried out in the CIHEAM's four Institutes. It promotes the work carried out by lecturers, researchers and collaborators.
From 1970 to 1976, Options Méditerranéennes was a bimonthly journal. Between 1981 and 1989, it became a series of studies. In 1989, it was published in three series.
Series A "Mediterranean seminars" includes the proceedings of all seminars and meetings organized by or in collaboration with the CIHEAM.
Series B "Studies and Research" includes the research papers presenting research outcomes by lecturers and researchers in the framework of the activities of the Institutes.
The series "Cahiers Options Méditerranéennes" includes the working documents, analyses, and studies produced in the framework of the CIHEAM's activities.
In 2008, the structure, layout, and graphic design of the Journal were renewed. Options Méditerranéennes is now published in two series.
Access to the Database of the Series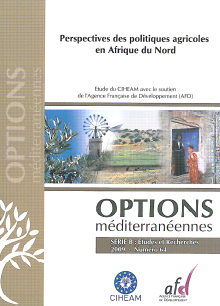 OUR CONTRIBUTIONS