146th CIHEAM GOVERNING BOARD MEETING
The Governing Board of the International Centre for Mediterranean Agricultural Studies (CIHEAM) met on 17 December 2020 for its 146th session under the presidency of Prof. Mohammed SADIKI via videoconference from Rabat (Morocco) due to the context of COVID-19.
New Delegate for Greece and new Director for the Zaragoza Institute
Before conducting discussions on the progress of the Organization's projects and the strategic directions, the President congratulated Mr Christos AVGOULAS, the new Delegate of Greece who participated in the Governing Board for the first time and who was elected by consensus as Vice-President of the member states during this meeting.
The President also welcomed the new Director of the CIHEAM Zaragoza Institute (Spain), Mr Rael COMPES, Professor of Economics and Social Sciences of the Polytechnic University of Valencia (UPV).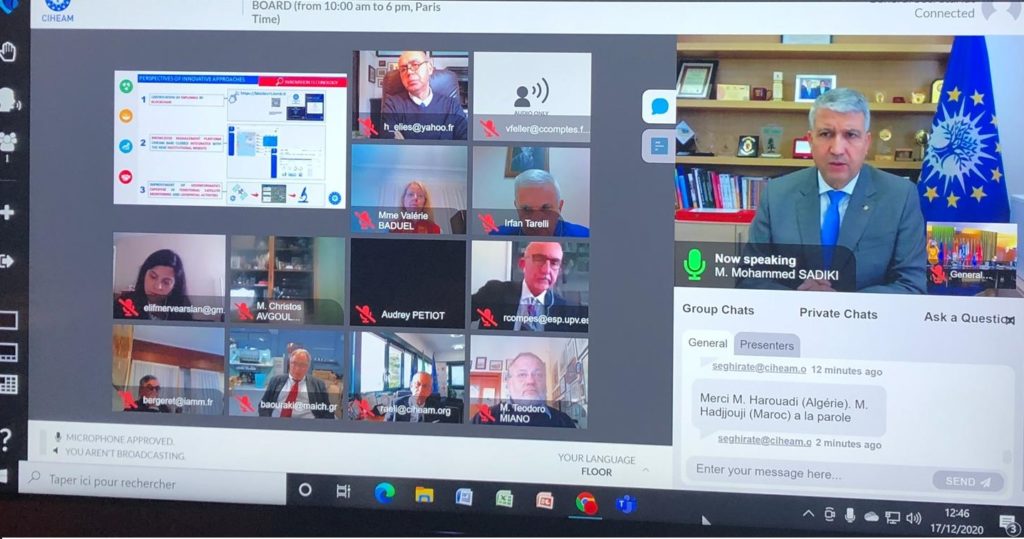 Anticipation and adaptation in order to ensure continuity of service
During the meeting, the President and the Delegations of the Member States welcomed the mobilization of the Secretary-General and the Directors of the Institutes to ensure as much as possible continuity of service, in particular, the new academic year 2020-2021 despite the pandemic, especially thanks to the investments made in the digitalisation of content and training.
They also commended them for developing and implementing risk prevention and management plans to protect students, staff and visitors as much as possible.
Overcome the consequences of the COVID-19 Crises
In addition to these points, the President recalled the importance of the dynamics and projects underway for the empowerment and socio-economic inclusion of young people and women, sustainable food systems and sustainable management of coastal and fisheries areas that are more strategic than ever with the health crisis of COVID-19 and its socio-economic consequences.
As such, the initiative of the multi-actor platform on sustainable food systems carried out by CIHEAM, FAO and the UfM, which is part of the UN One Planet Network initiative and in the run-up to the "United Nations Summit 2021 on Food Systems" was welcomed.
He also paid tribute to the actors of the rural and agricultural world - on the front line of the effects of the COVID 19 crisis - who held their sectors of activity at arm's length and who continued to ensure our food security.
Finally, President Sadiki wished to conclude with the need to give triangular cooperation (South-South-North) its full place in post-covid19 solutions because the Mediterranean area is a crossroads between the countries of Europe, Asia and Africa, having in common the same challenges in terms of food security and sustainable agriculture.
CAPMED & SDG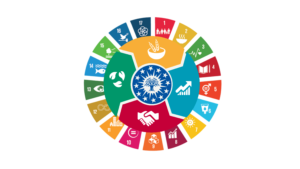 Télécharger le CAPMED