CIHEAM – INRA Meeting
20 September 2019
Paris, France
On Friday, the 20 of September, a working meeting bringing together representatives of the INRA (National institute of Agronomic Research) was held at the CIHEAM Headquarters in Paris.
The Secretary General of the CIHEAM Governing Board, the Director of the CIHEAM Institute of Montpellier and Dr Jean-François SOUSSANA, the Vice-President of INRA in charge of international policy and Ms. Ségolène HALLEY-DES-FONTAINES, the INRA-CIRAD Delegate for International Relations and Director of the Joint Support Research Unit for International Relations (Unité Mixte d'Appui aux Relations Internationales, UMA-RI) participated in the meeting.
It is important to recall that the INRA has been developing several partnerships in the Mediterranean for a long time and today wishes to strengthen the structuring of its research activities with its partners in the region.
That is the reason why the INRA has expressed the wish to hold discussions with the CIHEAM HQ on research prospects in the Mediterranean and to identify possible synergies with the CIHEAM, given the organisation's works and expertise.
The CIHEAM responded favourably to this request and the meeting of the 20 of September, provided an opportunity to discuss a document entitled: "Joint Working Plan for Research and Innovation in the Mediterranean Agri-Food Systems".
In the framework of the NEXUS "Territory-Water-Food-Health-Energy" proposed by the INRA, an approach based on various tasks was suggested (analysis of transitions, monitoring of the impact of major issues on agri-food systems, analysis of the complexity of agri-food systems, proposal of innovative ideas, test phases (through a Living Labs network), formulation of recommendations).
In order to carry out these tasks, 5 working groups would be set-up, including an "Advisory Board" in charge of developing collective actions and recommendations composed of partners such as the CIHEAM, the PRIMA Foundation, the FAO, the EC and the main national research institutions, selected for their experience and governance.
CAPMED & SDG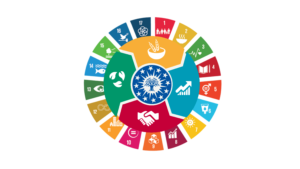 Télécharger le CAPMED