Message from Frida Krifca, new President of the Governing Board
April 1st, 2023 - Paris (France)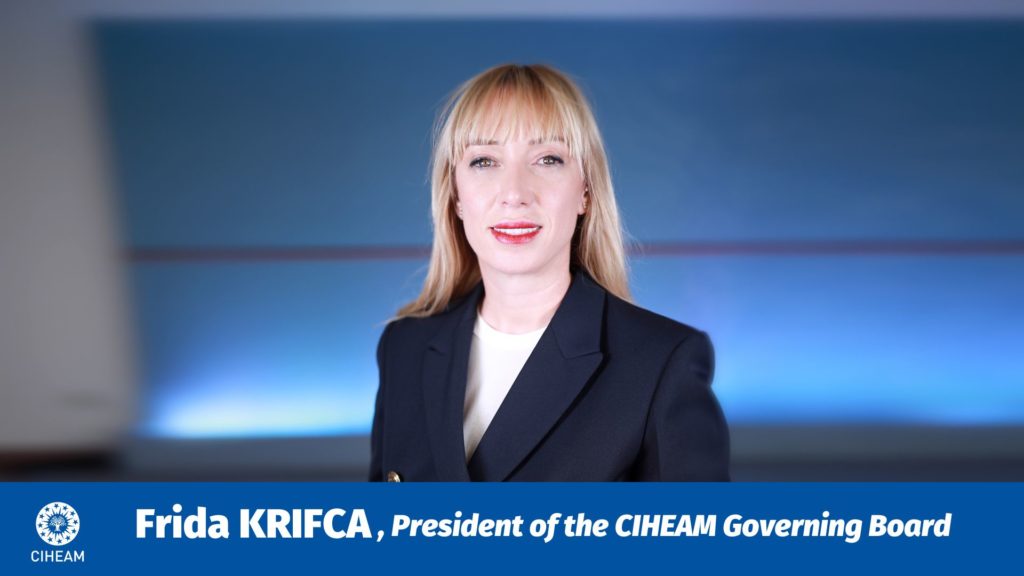 "Today I officially take on the role of President of CIHEAM. (...) CIHEAM is involved in 90 transnational projects, mobilizing nearly 50 countries, and involving more than 600 different organizations and research centres in agriculture. It is a great privilege and a huge responsibility of Mediterranean countries that mandated for the first time an Albanian and for the first time a woman, in the position of the President of this important organization (...). My main objective will be to reposition the Mediterranean region at the centre of the political agendas of the different countries. The reasons are economic, such as trade and agriculture, food and non-food products and market access. We have a long way to go and I am very honoured to undertake this journey with you."
-Mrs Frida KRIFCA
Albanian Minister of Agriculture and Rural Development
President of the CIHEAM Governing Board
Do you want to know more about the vision of Mrs Krifca for the CIHEAM? Watch the video of her full speech on our YouTube channel.
Biography
Mrs Frida Krifca is Minister of Agriculture of Albania as of September 2021.
She has 22 years of experience in administration and management, with a special focus on the development and strengthening of the financial sector, use of financial services and business development, meeting national, international and international economic, legal and structural objectives.
During the period July 2017 – September 2021 she held the position of General Director in the Agency for Agricultural and Rural Development where she was responsible for the administration of state budget support schemes in support of farmers, ensuring transparency and guaranteeing control mechanisms in investments and payments.
During the period November 2020 – February 2021, Mrs Krifca was a Guest Lecturer at the Faculty of Economics and Agribusiness, Agricultural University of Tirana in the Rural Development Course, for the subject Rural Economics.
In the period October 2013 – July 2017, Mrs Krifca held the position of Director General of USAID Financial Services Voluntary Bodies, where she provided technical assistance to public financial institutions and has identified, developed and managed numerous development, financial, fiscal and legal projects in Albania and other countries.
During the 151st Meeting of the CIHEAM Governing Board, she was elected President of the CIHEAM Governing Board, taking duties on April 1st 2023.