The CIHEAM at the International Agricultural Show in Morocco
Meknès, Morocco, Thursday 4 May 2023
The young visitors, among whom were many students and researchers, were able to discuss with CIHEAM representatives its training offers and capacity-building activities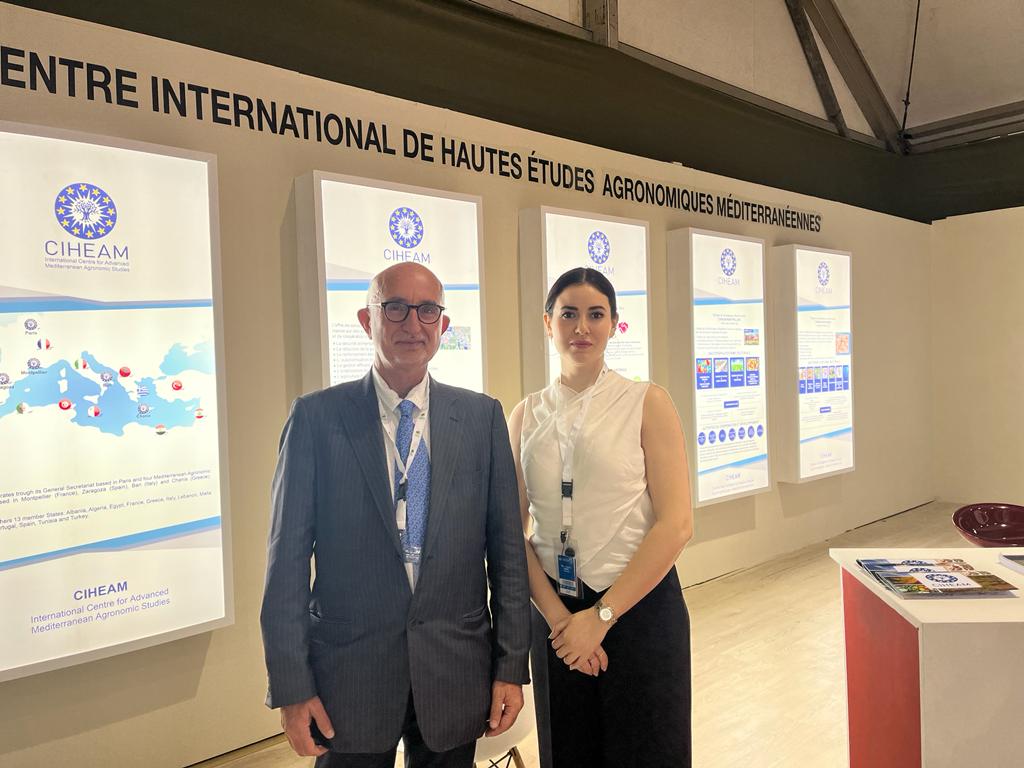 4 May 2023, Meknes (Morocco) - The CIHEAM was present at the 15th International Agricultural Show of Morocco (SIAM) where, with a dedicated pavilion, it was able to present its training institutes, its current activities and its broader institutional mission. The theme of SIAM being "Green Generation: for sustainable food sovereignty", the CIHEAM presented its many projects in the Mediterranean region aimed at strengthening food security in rural communities, an objective achieved thanks to the active participation of young people and women.

Moreover, the CIHEAM was able to make itself known beyond the Mediterranean region and share its knowledge on cooperation and political dialogue for the construction of sustainable agri-food systems.
The CIHEAM, a protagonist of agronomic training
For the CIHEAM, the Agricultural Show was an opportunity to present its 4 agronomic training institutes, namely CIHEAM Bari, CIHEAM Chania, CIHEAM Montpellier and CIHEAM Zaragoza. Thanks to this strong representation and a diversified training offer, the Institutes have been attracting students from all over the Mediterranean for more than 50 years and supporting them in their training projects.
During the show, the CIHEAM was able to meet other players in agronomic training such as the representatives of the Agronomic and Veterinary Institute Hassan II, Mr Abdelaziz El-Hraiki, Director of the Institute, and Mrs Lamiae Ghaouti, Director of Cooperation, Partnership and Development and former President of the CIHEAM Advisory Board.
The International Agricultural Show in Morocco
The International Agricultural Show in Morocco (SIAM), organised by the Ministry of Agriculture and Maritime Fisheries of Morocco, was launched in 2006 and is now in its 15th edition. With more than 1,400 exhibitors, 65 participating countries and around 900,000 visitors expected, the SIAM is confirmed as one of the most important platforms for exchange and dialogue in the agricultural sector at the global level.
This year's exhibition, held from May 2 in the imperial city of Meknes, is devoted to the theme "Green Generation: for sustainable food sovereignty". The Show is organised around 10 different poles (Regions, institutions and sponsors, international actors, local products, machinery, products, agricultural supplies, livestock, feed producers, nature and life) and welcomes nearly 40 conferences on different themes related to the topic of the show.