The future of food
The Future of Food: High-Level Event on the Mediterranean Diet
FAO Headquarters, 11 June 2019, Rome – Italy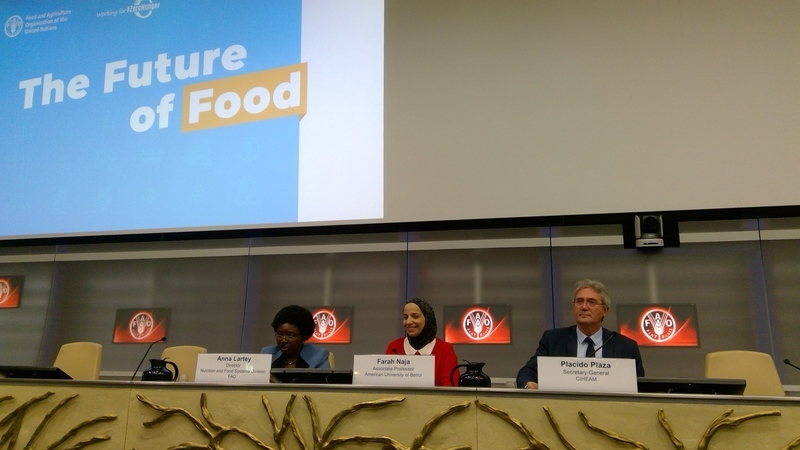 FAO Director-General José Graziano da Silva, Audrey Azoulay Director-General of UNESCO, Plàcido Plaza Secretary-General of the CIHEAM -joined by experts to discuss how to preserve the Mediterranean Diet- warned about the important cultural, social, environmental and heritage loss linked to the erosion of sustainable local diets, including the Mediterranean diet.
The Mediterranean diet, said FAO Director-General, has successfully combined the available food in the region, often grown by family farmers, for thousands and thousands of years. "If we allow it to disappear, what will be lost is not only the Mediterranean diet itself but also all the culture and the environment that enabled its development," he said in remarks at a high-level event at the Future of Food symposium at FAO (10-11 June).
Graziano da Silva stressed that UNESCO's inclusion of the Mediterranean diet on the world's Intangible Cultural Heritage list, denotes not only its health and safety dimensions, but also emphasizes the cultural, environmental, social and economic benefits it holds.
Redoubling efforts to promote the Mediterranean diet could lead to better health for all and help curb the rising levels of obesity while fostering sustainable food systems, preserving the environment and empowering local producers, the FAO chief noted.
"UNESCO is actually recognizing the importance of the Mediterranean diet as part of the culture and of the food system in which the diet is embedded," he said. "Most of the many sustainable diets around the world are based on that principle: promoting local food that is available and combining it in a healthy way. That is the secret," he added.
In a video message to the event, UNESCO Director-General Audrey Azoulay said: "Food is of great importance for our work in the cultural field because it is at the heart of the feeling of belonging, it reinforces social cohesion and it allows transmitting heritage in all situation. The Mediterranean diet, in particular, is recognized for its universal value and for all that it represents: know-how, symbolism, tradition, ritual and the pleasure of sharing food," she noted.
The Mediterranean diet can help curb rising obesity
After a decade of progress, world hunger is on the rise again, mainly due to conflicts and to the impacts of climate change, especially prolonged droughts. But while around one person out of every nine in the world is hungry - more than 672 million adults –, more than one out of ten people - are obese. "The erosion of local diets in the modern era came with globalization since it is often cheaper to import food from abroad than making the local food available," Graziano da Silva said. "We are witnessing the globalization of obesity, which is directly linked to the consumption of ultra-processed food," he added.
International Center for Advanced Mediterranean Agronomic Studies (CIHEAM) Secretary General, Plácido Plaza, noted in his address to event participants that "sustainable food systems in general and the Mediterranean diet, in particular, are concrete responses to many problems in our region, such as food insecurity, climate change, youth unemployment, and territorial inequalities. At CIHEAM, we strongly believe that the Mediterranean diet is a winning bet for the future and that its underlying realities contribute to sustainable and balanced development."Download the CIHEAM SG speech (French)
FAO and CIHEAM renew cooperation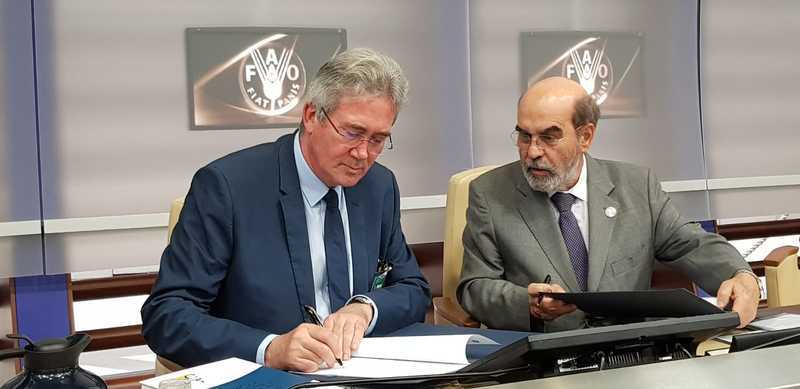 On the sidelines of the event, FAO and CIHEAM renewed its cooperation with the signature of a Memorandum of Understanding.
"We are very happy to renew our partnership with CIHEAM, a long-standing FAO partner in the Mediterranean countries. If you want to be global, you also need to have firm feet on the ground, and that is what this partnership allows," FAO Director-General said.
"Since 1977, our collaborations with FAO on priority themes in the Mediterranean have continued to grow and strengthen - and we are delighted with this. The signature of the extension of our institutional collaboration agreement promises great years of mutual enrichment and solutions to the major challenges of food and agriculture in the Mediterranean " added CIHEAM Secretary-General.
Treasuring the cultural and heritage dimensions of the Mediterranean diet
Our current food systems are challenged to deliver on the healthy diets needed for optimal health, and thus the global call for food systems transformation.
Poor diets have become a major contributor to disease and death. While nutrition is in transition all over the world, climate change and biodiversity loss are seriously undermining our ability to feed and nourish an ever-growing global population.
The Mediterranean Diet was declared in 2013 as the World's Intangible Cultural Heritage by UNESCO. According to UNESCO, "the Mediterranean diet is a set of traditional practices, knowledge and skills passed on from generation to generation and providing a sense of belonging and continuity to the concerned communities."
Breaking bread together...
There are lessons to learn from the Mediterranean diet. It is a diet that is characterized by high consumption of vegetables, fruits and legumes, moderate amounts of dairy products, low to moderate amounts of seafood and poultry, low amounts of red meat, and olive oil as the main type of added fat. It's also linked to the original Greek concept of diaita – "way of life".
The practice of "breaking bread together" has deep Mediterranean roots and evokes the peace-making and solidarity-building powers of sharing food security with others. It is, without any doubt, a critical skill within a region that has been a crossroads of culture for millennia.
Through a large body of research, the Mediterranean diet has been widely recognized as a healthy dietary pattern linked to better health outcomes. The Mediterranean region offers an example of a diet where food production and consumption are interlinked to produce multiple benefits in terms of health and sustainability.
Unfortunately, the Mediterranean diet is being eroded in its region of birth. Factors such as urbanization, increased availability of prepared and processed foods as well as mobility and migration are exerting pressure on traditional diets in the Mediterranean region. Other traditional diets around the world are also under pressure.
In our quest for healthy diets, the Mediterranean diet represents a dietary pattern to learn from in terms of sustainable production and consumption.
Hashtag: #FutureofFood
CAPMED & SDG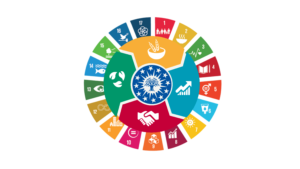 Télécharger le CAPMED