4th CIHEAM MedForum
4th Edition of the CIHEAM MedForum
« Mediterranean Agriculture and Food Systems in a Time of Climate Change and Agrifood Crisis »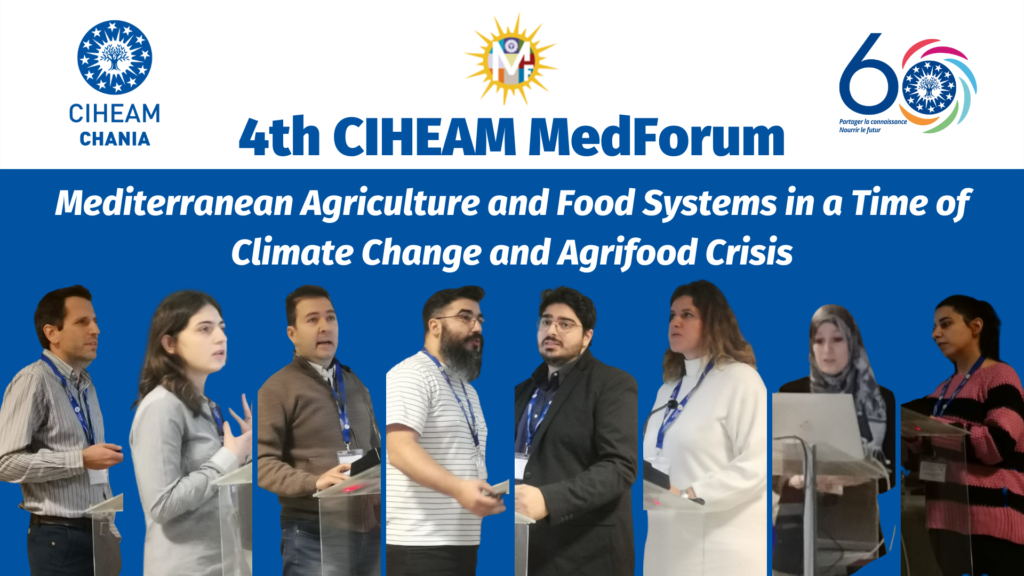 The 4th edition of the Mediterranean Forum for Doctoral Students and Young Researchers (MedForum) took place at the CIHEAM Chania Conference Centre from 4 to 7 December in the framework of the CIHEAM 60th anniversary celebrations.
This biennial forum was organized by the Department of Horticultural Genetics and Biotechnology of CIHEAM Chania, supported by the General Secretariat and the other 3 institutes.
The Food and Agriculture Organisation of the United Nations (FAO), the Union for the Mediterranean (UfM) and the European Forest Institute (EFI), partners of the MedForum, were also involved.
During three days, the young participants had the opportunity to exchange with high-level, internationally recognized scientists and to learn more about recent research that may affect agri-food production, rural development, and sustainability in the Mediterranean basin.
---
Research and science for agri-food systems affected by crises
In view of current events, the theme of this year's conference was "Mediterranean agriculture and food systems in the context of climate change and the agri-food crisis". Four thematic sessions marked the three days of meetings and debates:
Tools and strategies to improve the efficiency, nutritional value, health and sustainability of agri-food systems
Agricultural and agroforestry innovations and technologies
Genetic resources, pest management and water use for sustainable production and climate change resilience
Biotechnological approaches to increase crop productivity
More than 70 studies were presented during the three days by their respective authors, from countries in the Euro-Mediterranean area and beyond.

"Youth training, innovation and sustainability are the three key words of CIHEAM's mission. With this conference, the CIHEAM reaffirms itself as a central player in scientific research and knowledge sharing in the Mediterranean region."

-Mr. VINCENZO FERSINO, Principal Administrator at CIHEAM
---
Supporting excellence in research and innovative professional projects
In addition to the interventions of the institutional partners who called for the support of young Mediterranean researchers in a context of crises and in a dynamic of regional partnership, the opening of the Forum was marked by the award of two prizes by the Secretary General and the Directors of CIHEAM Chania and CIHEAM Zaragoza. The CIHEAM Prize for the Best Thesis and the CIHEAM Youth Innovation Award were awarded respectively to Ms. Yasmin MUHAMMED and Mr. Ezzudeen EISAWI for the conception and/or launching of outstanding projects in their respective fields of interest
The Mediterranean Forum - MedForum - is a biennial meeting launched by the CIHEAM in 2016 for PhD students and young researchers from the Mediterranean. It aims to foster communication, dialogue and co-publications between young people in the field of agrifood production and rural development in Mediterranean countries with a focus on dry and arid regions. It is also a moment of dialogue between the CIHEAM and its institutional and academic partners in the region to identify common initiatives in these fields. The first three editions of this MEDFOPRUM took place between 2016 and 2021.
Please visit the conference website for more information on the event.