DIGITAL INNOVATIONS AND OPPORTUNITIES FOR WOMEN ENTREPRENEURS IN RURAL AREAS

Women face a persistent gender gap in terms of access to and use of digital technologies – a gap which increased from 19% to 24% between 2013 and 2019 in the Arab Countries.
Technological changes, including digitalisation, have been accelerated by the COVID-19 health crisis. Now more than ever, we need to ensure that women are not left behind as our societies start to rebuild.
6-7 July 2021. This year's edition of the Women Business Forum, organized by the Union for the Mediterranean (UfM) focused on the digital transformation and how technology can be harnessed to empower women as entrepreneurs, traders, workers and professionals. The COVID pandemic has taken an especially heavy toll on jobs traditionally held by women such as retail, tourism and hospitality. The Women Business Forum, which serves as a regional platform to identify where digital inequalities remain gender-biased, brought together over 500 female entrepreneurs, business organisations, international organisations and business support schemes from the Euro-Mediterranean region. The event was also followed live on social media by more than 1000 viewers.
In partnership with CIHEAM and UNIDO, this year's edition also offered participants training sessions on Digital Transformation for Women-Led SMEs, e-commerce for women entrepreneurs and innovation and digital opportunities for businesses in rural areas.
In the UNIDO session, the trainers provided the participants with valuable insights on how to boost online businesses and how to use an action plan to effectively drive online sales with digital marketing channels.
The CIHEAM session focused on gender-sensitive innovation and digital opportunities for rural women. Experts provided diverse solutions to make regional entrepreneurial ecosystems more gender-sensitive by adapting training sessions, calls and competitions to the needs and strengths of women, as well as incubator capacity building and networking.

"GENDER-SENSITIVE INNOVATION AND DIGITAL OPPORTUNITIES FOR RURAL WOMEN: WHAT ROLE FOR INNOVATION SUPPORT ORGANIZATIONS?"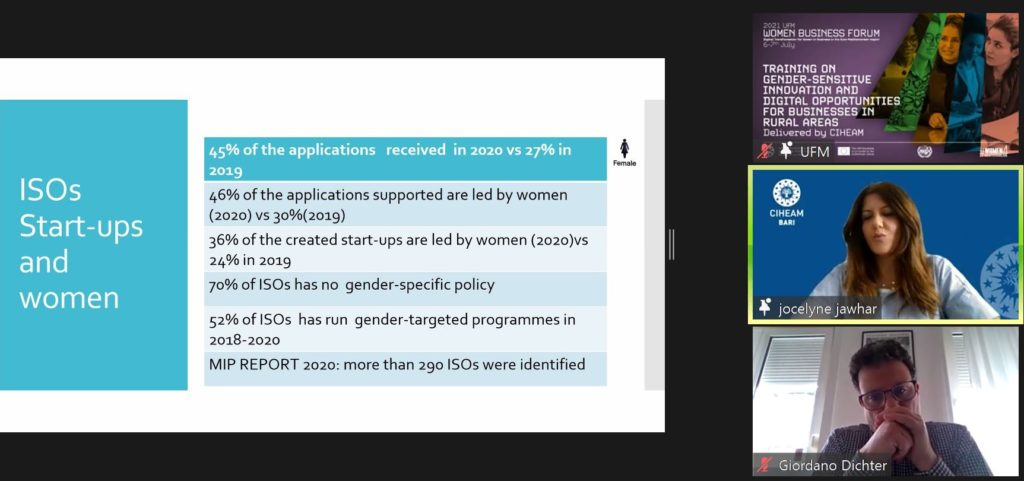 07 JULY 2021
Delivered by CIHEAM Bari and the MIP-Mediterranean Innovation Partnership network

Presentation:
Training of rural women in digital and new technologies is essential to strengthening their place in agri-food value chains.
This session, starting from the General Framework of the Mediterranean context (MIP 2020 Report), therefore aims to provide "trainers" and "solution developers" operating in Mediterranean ISOs with methodologies and tools to facilitate the customization of support services for women entrepreneurship, taking on and responding to their specific gender challenges and needs.

Participants:
Mediterranean institutions & Innovation Support Organizations (ISO), MIP Members...

Trainers:
Dr Jocelyne Jawhar; Dr Giordano Dichter, Damiano Petruzzella (CIHEAM Bari)
SURVEY
In anticipation of this session, the CIHEAM Bari and the MIP offered interested structures the opportunity to contribute to a survey to map the Innovation Support Organizations (ISOs) operating in the Mediterranean region in the service of youth entrepreneurship and transfer of technology in the agrifood sector.
The information collected will be important for the preparation of the MIP 2021 report which will present the situation in terms of innovations in the Mediterranean and more particularly in the agri-food sector.
CAPMED & SDG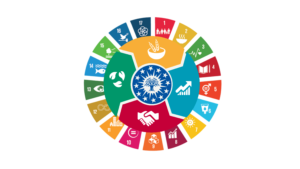 Télécharger le CAPMED